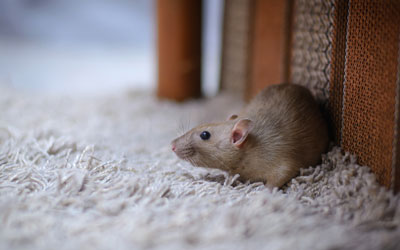 Pest problems are notorious in the fall months, especially rodent problems. Rats and mice are known to enter homes through the tiniest of openings. Once inside, they will gladly burrow in the attic, basement, walls, and other areas of the home. Because rodents can contaminate surfaces, spread germs, and cause structural damage, it's extremely important to learn how to keep rats and mice away. Here at Dugas Pest Control, we want you to feel comfortable in your home without worrying about rodents. We've gathered our top prevention tips for fall rodent infestations–read on to learn more!
Our Top Rodent Prevention Tips
No one wants to deal with rodents in their home. Some of our top tips to keep them out and away from your home in Baton Rouge include:
Get rid of excess moisture. Fix leaking pipes and clogged drains.
Store firewood away from your home. Piles of lumber will surely attract rodents and other pests to get close to your house.
Store food properly. Securely store food in tight-fitting containers with lids.
Keep a tidy yard. Cut back any tree limbs or vines that are attached to or near the home.
Seal holes around pipes. Use caulk or wire wool to cover up gaps and openings near pipes and other openings.
Cover vents. Install mesh screens on your vents. Also, consider installing screens on doors and windows.
Use tight lids on trash cans. Rodents love to rummage in the garbage! If possible, keep your trash cans sealed and stored.
Protect eaves. Fix any damaged roofing and use wire mesh to seal gaps in your eaves.
Dangers of Seasonal Rats and Mice
Rats and mice can be a nuisance at any time of the year. However, they often come inside more and more often when the temperatures drop, making them particularly troublesome in the autumn and winter months. Once they get indoors, rats and mice will take shelter in attics, basements, kitchens, and garages. A rat or mouse problem often begins when the rodents get in through your chimney, pipes, air vents, and more. In addition to contaminating surfaces and spreading germs, rodents can chew through materials with their ever-growing teeth and cause serious damage inside.
Fall Rodent Infestations in Baton Rouge
No one wants to deal with rats or mice in their property on their own. If you have an infestation in your Louisiana home or want to prevent one altogether, it's important to call our team of rodent exterminators. The experts at Dugas will customize a rodent control plan suited to the unique needs of your home.
Do You Have a Pest Problem? We Can Help.
Click the button below to leave your information and we'll be in touch in an hour or less.
Prevention Tips for Fall Rodent Infestations in Louisiana
Serving the Baton Rouge and Acadiana LA area since 1957
Baton Rouge | Lafayette | Acadiana | East Baton Rouge | St. Landry | Pointe Coupee | West Feliciana | Prairieville | Denham Springs
East Feliciana | West Baton Rouge | St. Helena | Livingston | Ascension | St. James | Assumption | Iberville | Plaquemine